Need a Prescription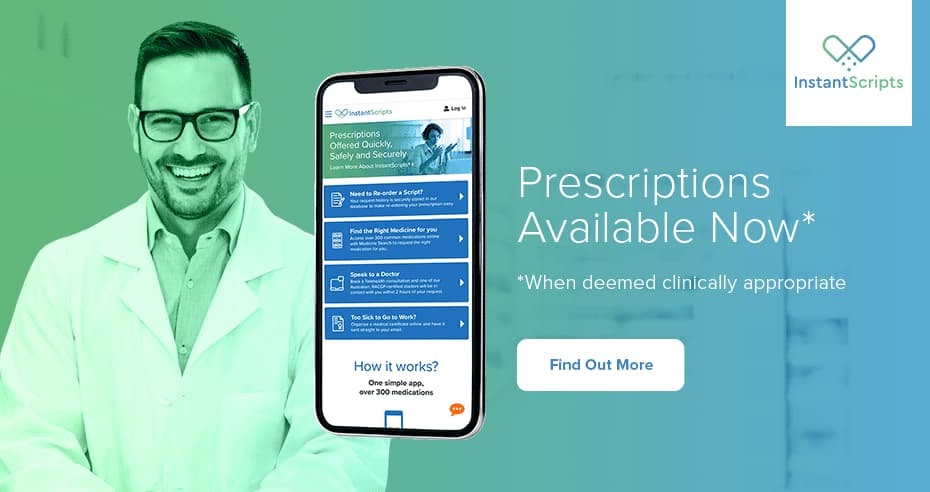 Quick, Safe Online Scripts
InstantScripts offers online prescriptions for over 300 common medications. Search your medication here: https://www.instantscripts.com.au/
Getting a prescription for your medication can be a pain. You pay a lot of money to wait around in a room for a script that really only takes your doctor minutes to prescribe. It's slow, inconvenient and expensive, plus you had to travel and sit in a waiting room full of sick people for half an hour. It can be particularly frustrating if you're living with a chronic illness and require ongoing medication. But with InstantScripts®, you can request an online prescription and have it sent to Pharmacy Direct for dispensing and then direct to your home.
Backed by real GPs, our RACGP-certified doctors will review your script to make sure you receive the best and most appropriate treatment for your condition.No more unhealthy waiting roomsNo more long wait timesNo more costly consultations
How it Works 
One Simple App, Over 300 Medications
Select your medication
Complete a quick online medical consultation
Select PHARMACY DIRECT 
Your request will be reviewed by a RACGP-certified doctor
If approved, the prescription will be sent directly to PHARMACY DIRECT for an easy pickup or delivery
You'll be notified once the script has been sent to the pharmacy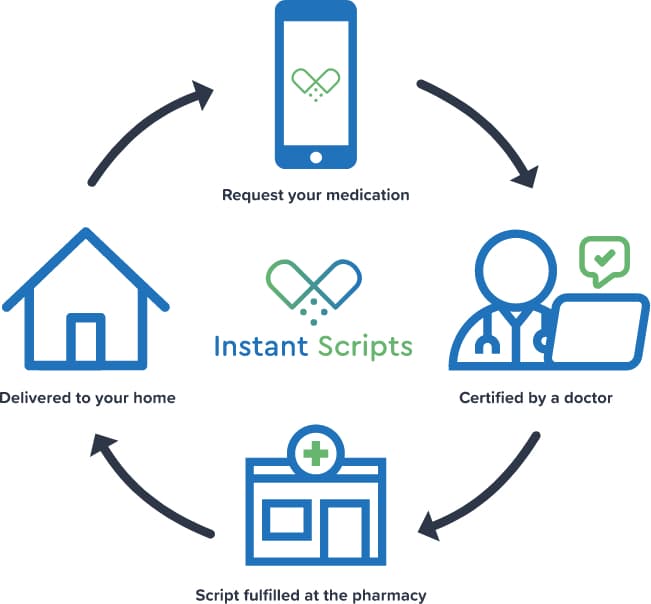 Frequently Asked Questions
How secure is InstantScripts®?
Your safety is our priority. We use secured cloud data centres to protect your data. All connections to our servers are encrypted and protected with modern secured communication protocols (HTTPS/TLS) using strong security certificates. How much does it cost?
Prescriptions can be obtained via the InstantScripts® platform for $15.
Is a real GP writing my prescription?
Every InstantScripts® doctor is a licensed, registered & fully insured doctor based in Australia who will adhere to the highest clinical standards.
Your doctor's medicare prescriber number will be written on the prescription.
Do I need a medicare card to use the service?
While anyone can use InstantScripts®, some services may require a medicare card.
What sort of medication is available through InstantScripts®?
InstantScripts® offers online prescriptions for over 300 common medications, both for everyday conditions and chronic illnesses:Women's health and contraceptive pill refillsMen's health, erectile dysfunction medication and premature ejaculation treatmentUrinary tract infection (UTI) treatmentHerpes treatmentPrescriptions for asthma inhalersHigh blood pressure medicationOver-the-counter gout medicationPrescriptions for pain managementCholesterol medicationHeartburn treatmentAntidepressants and SSRI medicationHormone replacement therapyMelatonin tabletsNasal spraysSteroid creamsPrescription skin care products for acne and Rosacea
What happens to my data?
To accurately and safely provide prescriptions and medical consultations, we'll need to collect some personal information, such as your address and medical history. All of your personal information will be safely held in our secure cloud storage and encrypted in the database. Your data will be held in local data centres that adhere to the highest Australian standards so that your information remains safe and sound on Australian shores
Did this answer your question?
Thanks so much for your feedback!
%s of people found this helpful.